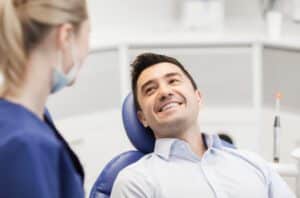 Think of the following words: Comfortability, honesty, and affordability. If these words say what kind of dentist office you are looking for, then you've come to the right place because here at Yerba Buena Dentistry, that is what we are all about! At Yerba Buena Dentistry in San Francisco 94111, we offer an array of services for all our patients, including dentures. Dentures have been a popular solution for people who have missing teeth ever since the 7th century BC. These dental appliances give people a second chance to smile, eat, and speak with confidence. They are customizable, natural-looking, and functional. Dr. Jiahua Zhu, Dr. Semi Lim, Dr. Varghah Lotfi, and Dr. Amrit K. Sethi and their excellent team are devoted to providing our patients with the best care in the San Francisco area! 
What Types of Dentures Are There?
The two primary types of dentures are partial dentures and complete dentures. Partial dentures are suitable for people with a few missing teeth who do not want dental implant surgery. Depending on the patient's preference, partial dentures can be removable or fixed. Complete dentures, on the other hand, are appropriate for people who have lost all their teeth. Full dentures replace all teeth in the upper or lower jaw or both.
Who Qualifies For Dentures?
Generally speaking, almost anyone can get dentures. Many will think that older people are the only ones who qualify for dentures, but this is untrue. The only way to not be able to get dentures is if you have a complete set of teeth, naturally. Another reason you would be unable to qualify for dentures would be if your gum tissue health were terrible and your jaw bone structure was too weak to support the dentures. 
Ultimately, as long as your jaw bone and gum tissue is healthy and if you are missing your teeth, you may qualify for dentures. Don't hesitate to schedule a consultation with us to determine if you are eligible for dentures! 
Benefits of Dentures
One of the significant benefits of dentures is that they restore the functionality of your mouth. Benefits of dentures include: 
Eating

: With dentures, you can find yourself able to eat easier with them as they help give you a complete set of teeth once again. 

Talking:

Teeth are necessary for our day-to-day conversations, and dentures help fix this by giving you a complete set of teeth, thus allowing you to speak again more fluently and easily. 

Smiling:

Smile brightly and happily, knowing that dentures give you a complete smile that is fully functional and looks lovely! Additionally, they can help maintain your face's structure and prevent sagging or sunken cheeks.

Confidence:

Dentures are also customizable, so you can choose a set that matches your natural teeth. Not only does this help to increase the functionality of your mouth, but it can also help increase your confidence, allowing you to smile freely and happily. 
Caring for Dentures
Proper denture care is essential to maintain their functionality and longevity. You should clean your dentures daily and avoid using abrasive cleaners or toothbrushes that may damage the dentures. When cleaning, use a soft-bristled brush, and rinse the dentures with lukewarm water. Avoid exposing your dentures to extreme temperatures to prevent warping or cracking. You should immediately contact Dr. Jiahua Zhu, Dr. Semi Lim, Dr. Varghah Lotfi, or Dr. Amrit K. Sethi if there are any signs of damage or loosening.
Adapting to Wearing Dentures
It may take some time to adjust to wearing dentures. In the beginning, they may feel uncomfortable, awkward, or bulky. However, you will get used to them over time, and they will begin to feel more natural. You may need to avoid foods that are hard to chew or sticky on your dentures in the first few weeks.
Dentures in San Francisco 94111
Dentures are an excellent solution for restoring your lost smile and confidence. With proper care and maintenance, they can last for years. Dentures come in different types and can be customized to suit your needs. 
With our excellent doctors and convenient scheduling at Yerba Buena Dentistry, we are here to give you the best dental care in San Francisco and patients in 94111! Please schedule an appointment with us today! Our services include restorative dentistry, preventative care, and cosmetic dentistry in San Francisco, California.