Dental Exam and Cleaning in San Francisco, CA
Dental exams and cleanings are one of the best ways to stay on top of your oral health.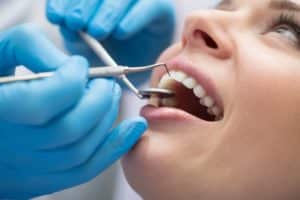 By making sure you are going to visit your dentist every 6 to 12 months, you are taking part in some really important self-care as well as preventative care.
What to Expect at a Dental Exam and Cleaning
A dental exam and cleaning is a time when a dental hygienist can provide you with a professional dental cleaning. Using great care and special dental tooth, the hygienist or dentist will remove plaque and tartar build-up from your teeth. These are things that can be difficult to remove from your teeth by brushing and flossing.
The hygienist will clean the surface of your teeth by brushing, flossing, and polishing your teeth. Dental x rays might be taken of your teeth as well and you will be checked for periodontal disease (also called gum disease).
The Benefits of Dental Exams and Cleanings
Not only will your smile look and feel great after a good teeth polishing, but you will be catching any health problems early on. Healthy teeth are teeth cleaned regularly. This is a time to check for bone loss, teeth and gum issues, and more. It's also a fantastic opportunity to chat with your dentist and ask any questions you may have about your teeth. Dental exams and cleanings are a time to become more educated and empowered surrounding your oral health.
If it's been a little while since your last dental exam and dental cleaning in San Francisco, CA, make a goal now to change that! Take your dental health off the back burner and make it a priority in your life. Call Yerba Buena Dentistry and get an exam and cleaning on your calendar today!