Here at Yerba Buena Dentistry in San Francisco, California, we understand that sometimes dental emergencies can crop up and wreak havoc on your teeth and mouth. Dental emergencies can crop up out of nowhere and cause great pain and need to be attended to right away. At Yerba Buena Dentistry, we can accommodate your dental emergencies and get you feeling back to normal as quickly as possible.
What is an emergency dentist?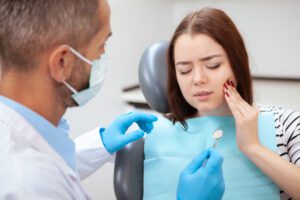 An emergency dentist is there for those times where a regular appointment just won't do. You may have been in an accident and damaged your teeth, or perhaps you've woken up with a swollen jaw or unbearably painful gums and can't wait for a regular appointment with your dentist. In these situations, you turn to an emergency dentist that can take care of your teeth, reduce pain, and prevent any more damage to your teeth. If you're in pain with your teeth and just can't wait, visit your emergency dentist right away.
When would I need one?
There are many reasons you may feel the need to visit an emergency dentist rather than waiting for a regular appointment. Extreme tooth pain, considerable tooth damage, full or partial loss of teeth, and even bleeding in the mouth or damage to your tongue or gums qualify as a dental emergency. Prompt treatment can help eliminate pain and prevent any further damage being caused to your teeth and gums.
It's understandable that when you're in pain, you might reach for some painkillers to make things easier. However, you should consider refraining from any DIY approach until you have spoken to your emergency dentist, as this may hinder your dentist's ability to diagnose you properly. Instead, call your emergency dentist and arrange an appointment as soon as possible.
If you wear braces and have broken them, this also qualifies as an emergency visit to the dentist. Failure to take action with braces can lead to misalignment of your teeth and having to wear braces for longer. Visit your emergency dentist today.
Are there any preventative measures I can take?
You can never predict a dental emergency. However, sometimes the cause of a dental emergency is down to poor oral hygiene and disregard of the teeth and gums. To prevent yourself from having to call your emergency dentist, you should:
Brush your teeth twice a day (morning and night)

Floss in between your teeth to prevent gum disease

If you have braces, take care not to damage or break them

Reduce the amount of sugary and fatty foods you eat

Avoid smoking

Cut down on alcohol consumption

Eat a healthy and nutritious diet to help keep your teeth and gums healthy

Drink more water!
A dental emergency can be a horrible experience, but with quick actions and our team of experienced emergency dentists, Yerba Buena Dentistry can help resolve your tooth problems right away.