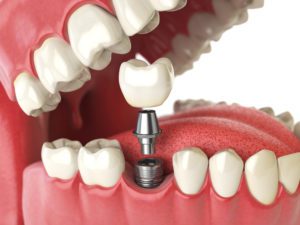 Missing teeth can cause significant distress- from affecting one's self-esteem to impairing eating and speaking capabilities. Luckily, dental implants are an excellent solution for replacing missing teeth, and they have revolutionized dentistry. Here at Yerba Buena Dentistry in San Francisco, we have a team of experts here to provide dental implants treatment to patients in need. 
What are Dental Implants
As a restorative dental procedure, titanium dental implants serve as artificial tooth roots anchored into the jawbone. Once they fuse with the surrounding bone, they become a sturdy base for replacement teeth. Dental implants can be used to support dental crowns, bridges, or dentures. 
Why Would You Need Dental Implants? 
Dental implants are an excellent option for anyone who has any of the following: 
Missing teeth:

It can make speaking or chewing your food difficult. 

Sunken in facial appearance due to missing teeth:

Lack of teeth can shrink your jaw bone and cause the skin on your face to sag and droop due to the lack of supporting teeth and jaw structure. 

Teeth needed to be extracted due to severe infection, injury or various reasons.

Dental implants could be an excellent choice to replace the teeth that need to be removed due to various reasons. 
Different Types of Dental Implants
There are two types of dental implants: endosteal and subperiosteal implants. Endosteal implants are the most common type of dental implant. They are directly inserted into the jawbone and can support one or more artificial teeth. Subperiosteal implants, on the other hand, involve a metal framework that is attached to the jawbone and protrudes above the gum line. This type of implant is the best option for patients with weakened jawbones.
Benefits of Dental Implants
Dental implants come with numerous benefits. 
Cosmetic:

Although a restorative fix to help functionality, dental implants can also be considered a cosmetic fix. This is because dental implants help improve the look of your smile by looking and feeling like natural teeth. 

Restorative:

As a restorative procedure by nature, dental implants restore the ability to chew and speak once more, as you can have any of your missing teeth restored with artificial teeth that look just like your natural teeth. 

Self-esteem:

Dental implants look, feel, and function like natural teeth, which improves one's appearance and thus improves self-esteem.

Durable:

Dental implants are more durable than bridges or dentures, lasting a lifetime if properly cared for.
The Process of Dental Implant Placement
Replacing missing teeth with dental implants enables you to do so in a long-lasting manner. There is something available for everyone but your jaw bone and gums must be healthy to receive implants.
Comprehensive Exam:

Dr. Jiahua Zhu

,

Dr. Semi Lim

,

Dr. Varghah Lotfi

, and

Dr. Amrit K. Sethi

will perform a comprehensive dental examination and take x-rays. From the results, they will make a personalized treatment plan that suits your needs. 

The Procedure:

Your dentist will place the implant into the jawbone surgically. We can make the process pain-free and comfortable for you with local anesthesia. During the procedure, we will make a small hole in the bone of your jaw or skull to place dental implants. A titanium implant is inserted into this hole as a artificial tooth root. After the procedure, the patient may experience minor pain and swelling. You can take over-the-counter pain medication to help with any pain. 
Dental Implants in San Francisco 94111
Dental implants provide patients with effective results and long-lasting benefits when it comes to the replacement of missing teeth. However, proper dental care, such as brushing teeth twice daily, flossing, and routine dental visits, is vital to maintaining excellent oral health. 
Please schedule a consultation with us at Yerba Buena Dentistry today!